How we chose lighting for our living room!
Week 7?! I can't believe how quickly the time had gone! We're just days away from the full reveal and I can't wait to take you on a tour of our living room!
This post contains affiliate links which means if you make a purchase, I make a small commission at no extra cost to you. See my disclosure policy here.
But today we're talking living room lighting! Don't forget to check out what the other Guest Designers have been up to on the ORC Blog HERE!
And to see the previous weeks, visit my posts below:
Week 1: Announcement
Week 2: DIY TV Console
Week 3: How to Choose an Area Rug
Week 4: DIY Farmhouse Coatrack
Week 5/6: Living Room Decor
Farmhouse Style Living Room Lighting
When we first moved into our home, the only lighting in our living room were some recessed lights, four on either side of the room. There were fans installed, but they did not have lights.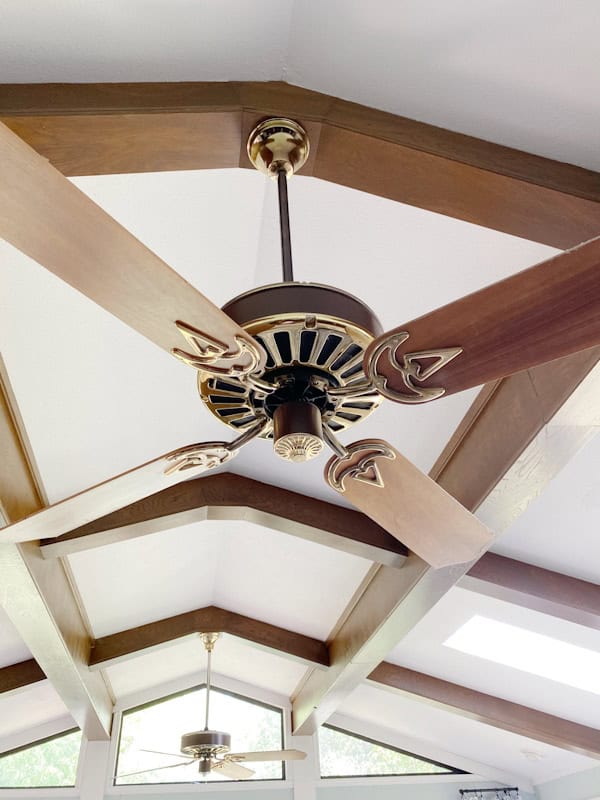 There was definitely a need for more lighting options. It is a sunroom so during the summer the lack of electric lighting was not as big of an issue, but during the fall and winter, there was a need for more.
Take the Tour!
We wanted to add several alternatives to choose from depending on the need so we added three different living room lighting options in addition to the recessed lights.
Floor Lamps
We already had these farmhouse-style lamps we had purchased from Target for our previous home, but they had been in storage because there was not a good place for them with our old sectional.
After we purchased our new furniture, we pulled them into the space to sit on either side of our new recliners. They were perfect for the space with their distressed wood finish and linen shades.
Now if we're reading a book in the evening or working on the computer, we can turn on our lamps for extra lighting and it's so nice!
Brass Swing Arm Lamps
I've loved swing arm lamps for a long time and wanted to incorporate them somewhere in our home. But I hadn't given much thought to using them in our living room lighting until I was looking for some decor to go in the spaces on either side of the TV.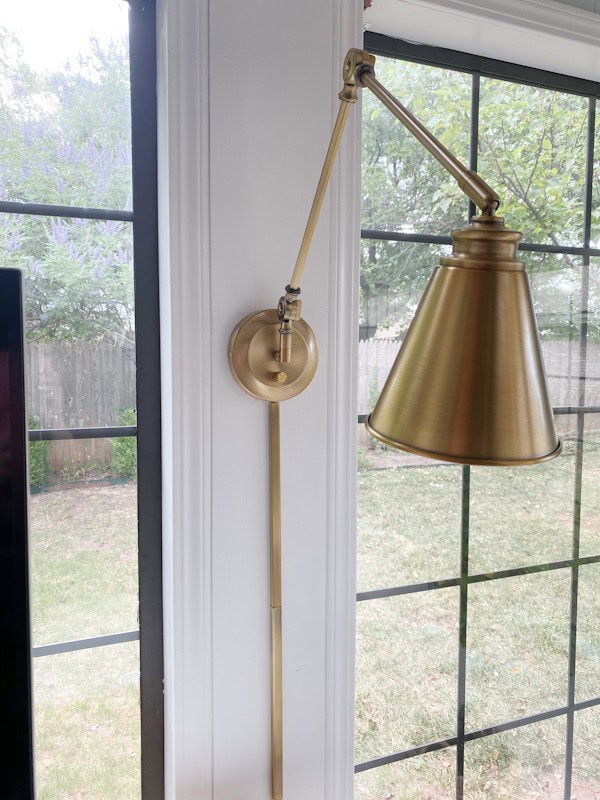 I was having a hard time coming up with some decor I really liked and then I found some inspiration browsing Pinterest one day and decided it would be the perfect place for swing arm lamps.
I found these brass swing arm lamps on Amazon and they worked out great because we didn't have to hard-wire them into the wall, they just plugged into the outlets that were already at the bottom of each section. They came with decorative covers for the cords and they look amazing!
I love the brass touch to this space which ties into the brass metal sheeting in our TV console. And we really enjoy having this source of living room lighting in the evenings!
Log Barn Drum Overhead Lights
This was THE hardest decision! I agonized over choosing these lights and went back and forth for several weeks. I waiting almost until the last second and finally settled on these Log Barn Drum Lights.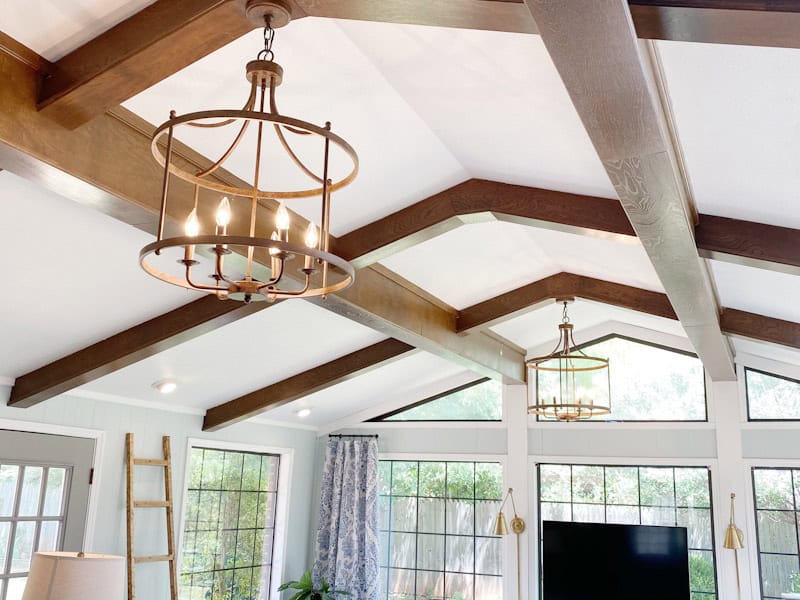 At first I thought I would go with black to match our kitchen lights, but the more I pictured it, black was not what I wanted. I also looked at some lights that were mixed wood and metal and they probably would have been really nice.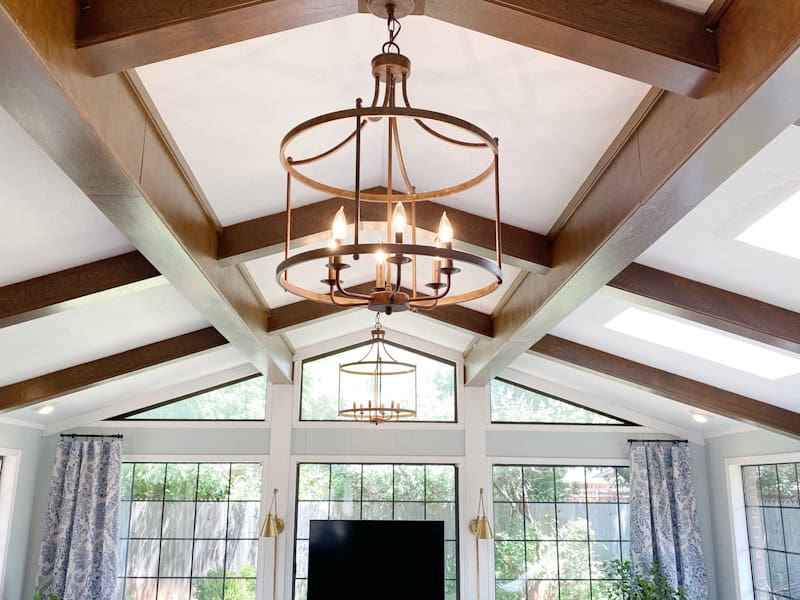 But I landed on these lights for a few reasons. First, they had a vintage feel that really tied in with our living and dining room decor.
They were also large enough to fill the space and feel proportional, but at the same time, they didn't overwhelm or feel "in-your-face" if that makes sense. They're grand but not overwhelming.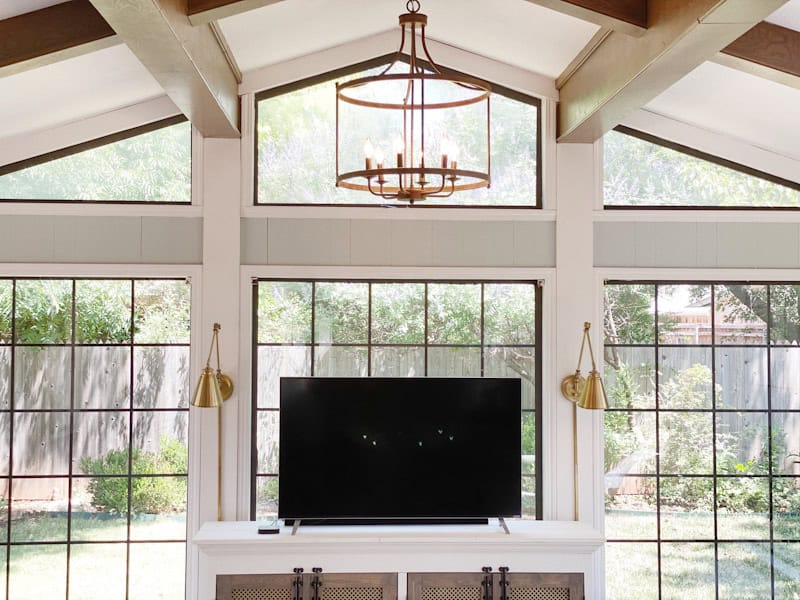 Finally, I liked the delicate feel of the style. They're not flashy, they have a simple beauty to them that draws you in.
We've really enjoyed having these overhead lights in place of the ugly, outdated fans that used to adorn this space!
This concludes week 7 of the One Room Challenge! I am thrilled to say we are finished with this room so this week will just be making sure the windows are clean and the space is ready to reveal!
In addition to the tour we'll be sharing the furniture we purchased, why we chose it and where we found it! Be sure to subscribe so you can follow along (you get a really cool freebie when you do)! And for more on our home, visit me on Instagram!
Pin for Later: