Use these tips to create the perfect tablescape for your guests!
Do you love to entertain? Do dinner parties get you excited? Then you're in the right place!
If you're like me, part of the enjoyment of hosting guests is getting to decorate for the occasion. I love creating a beautiful tablescape to make friends and family feel special.
I usually design the theme around a season or holiday to compliment the calendar or event, but you can also design it using your favorite colors or style. Maybe you want a vintage or farmhouse style tablescape.
So let's jump into how to create the perfect tablescape!
Steps to Designing the Perfect Tablescape
Inspiration: Decide on what type of atmosphere you want to create. Is it a more formal event or more laid-back?
Do you want to use cloth napkins or decorative paper napkins? Does it call for your China set or will your everyday dishes work?
Wine glasses or Mason jars? What colors would you like to incorporate? You can always look to magazines or Pinterest if you're feeling stuck.
Once you've decided the feel you're going for, you're ready to gather your supplies and get started!
The Base: Start with a clean table. Try to look at it with fresh eyes! Use a runner as an anchor for the rest of the pieces and to add interest.
Maybe you want to layer your runner with a neutral fabric like burlap on the bottom and a patterned runner on top. Or perhaps you'd like to use butcher paper and decorate it.
Maybe you'd rather use a tablecloth! Try different looks to see what you like best!
Table Setting: To add depth and interest to your table setting, I recommend starting with a charger. Next layer your dinner plate.
If you're using napkins as part of your decor, you can place it on the dinner plate or on top of the salad plate, depending on your preference. Or you may choose to lay it beside the place setting with the flatware on top.
I love to start with a neutral dinner plate and add color with the napkins or salad plate. Here are some examples of spring table settings I've done in the past that show this.
Finish it off with flatware that complements your plates. Gold, copper, or black flatware are some fun and popular options right now.
Finish your setting off with the drinking glass of your choice. You're almost there!
Centerpiece: Centerpieces are so fun! They add so much beauty and interest, and they can be simple or more complex, depending on the look you're going for.
You can choose to simply add a large vase of flowers. Purchase a bouquet from the store or cut fresh stems from your own garden!
Give height to your centerpiece using a tray and add other decor pieces for interest like candles or small corbels.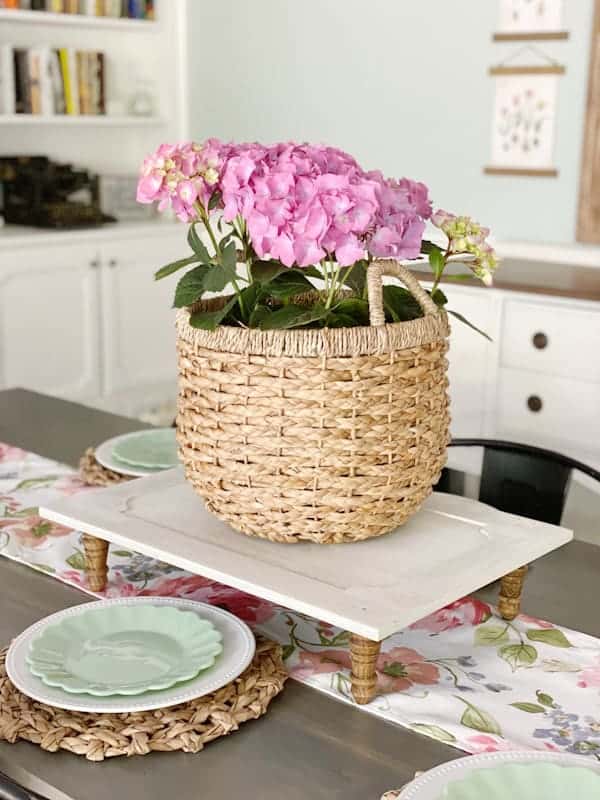 Fill a long wooden bread bowl or a vintage wood tool box with decorative balls or faux flowers.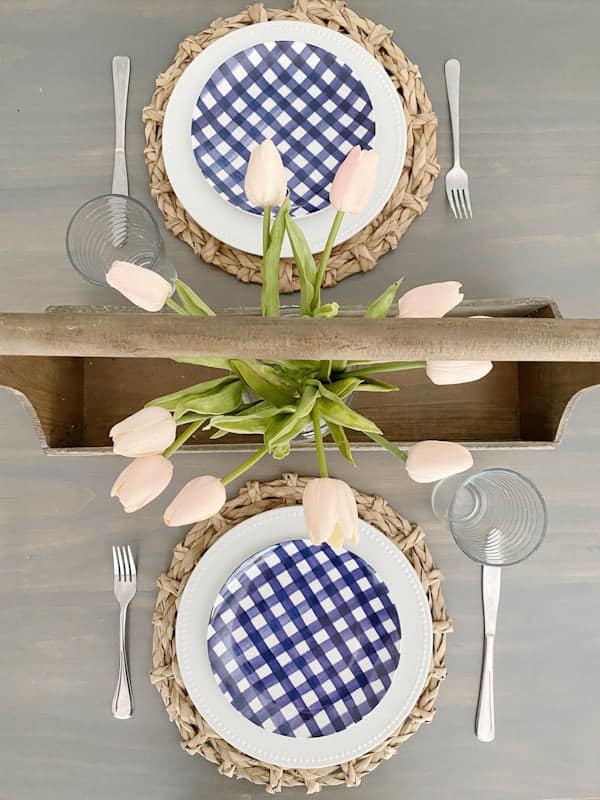 One of my favorite things to do is to create a runner with florals and sprigs from our backyard!
I just trim foliage from different plants and weave them together for a beautifully simple (and free!) centerpiece. Just be sure to shake the bugs out first!
Again, Pinterest is a great resource if you need ideas for a centerpiece.
And that's it! Great job, you've created the perfect tablescape that will leave your guests wowed and feeling cherished! Now be sure to step back and enjoy your creation!
Here are some tablescapes I've done in the past for some inspiration!
Thanks so much for hanging out with me today! For more inspiration, be sure to follow me on Instagram!
OTHER RELATED POSTS:
Fall Tablescape from Target's Dollar Section
Spring Tablescape Tour
Pin for Later: