Build this high-end looking TV Console for around $400!
Welcome to Week 2 of the One Room Challenge (ORC)! Last week we revealed that we are participating in the Spring 2020 round of the ORC and chose to finish our living room for the project! You can read that post here.
To see the progress of other guest participant's spaces, check out ORC's Blog here!
One Room Challenge – DIY TV Console
Our first project in this space was to build a TV console. We had been using this entryway table since we moved in two years ago, but it looked too small in this large room and didn't provide the storage we needed for our DVDs, gaming consoles, etc.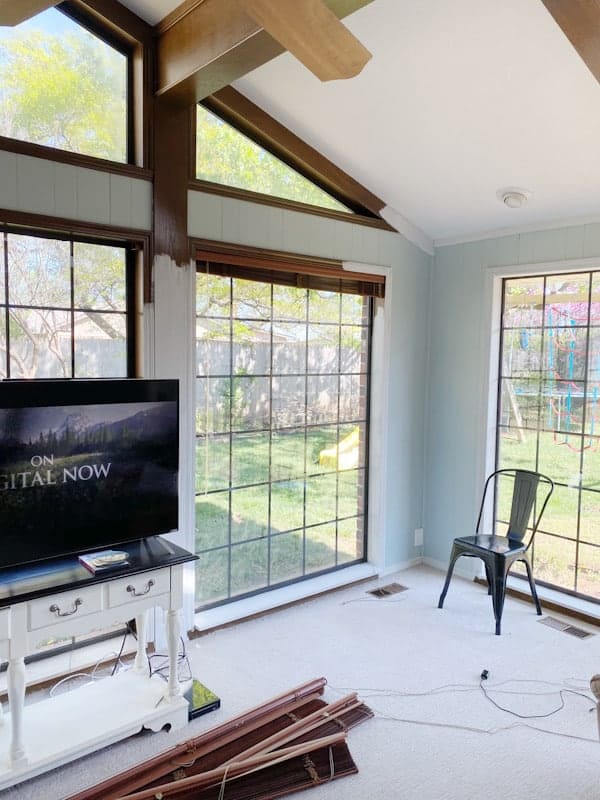 We wanted something that would hide the mess of cords and be an eye-catching focal point since it's one of the first things you see when you walk into this room.
Other Related Posts:
ORC Week 3 – Tips for Choosing an Area Rug
ORC Week 4 – Farmhouse Window Coat Rack
ORC Week 5/6 – Living Room Decor
ORC Week 7 – Lighting
ORC Living Room Reveal
For More Behind the Scenes Check Out the YouTube Video!
After searching Pinterest for ideas, I came across some plans on Build Something's site for a beautiful farmhouse-style TV console. It was exactly the style I was going for and by building it ourselves, we would save hundreds of dollars! Plus we could make it the exact size ideal for our living room.
FIND FARMHOUSE MEDIA CABINET PLANS HERE
We purchased all of the wood, trim, hardware, and supplies for right around $400. We opted to make the TV console a little larger than the original plans so it cost a little more. But this piece would go for three times that in a store!
Over the course of about five days, Eric got to work building the base, trimming it out and making the doors.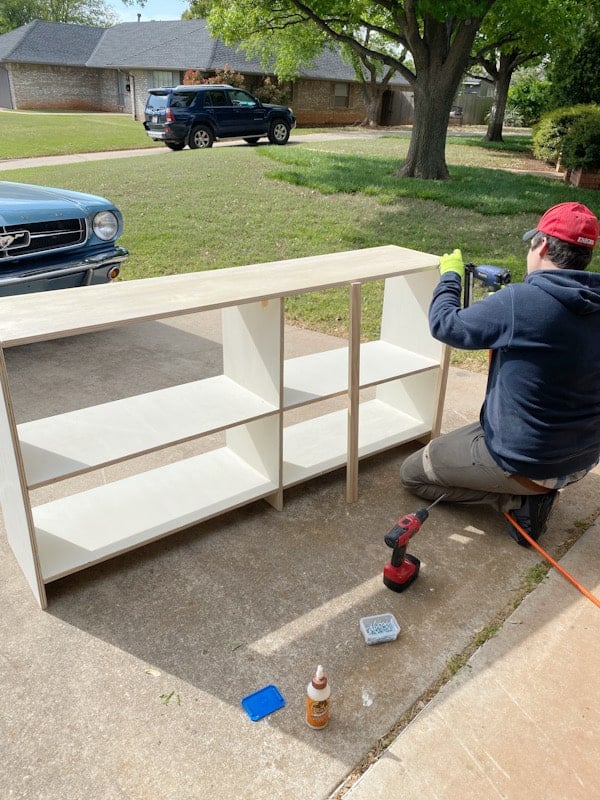 The original plans had four pane glass doors with decorative brackets. We decided to eliminate the brackets and replace the glass panes with these brass aluminum sheets featuring a cloverleaf design. This will better hide our gaming consoles, cords, etc.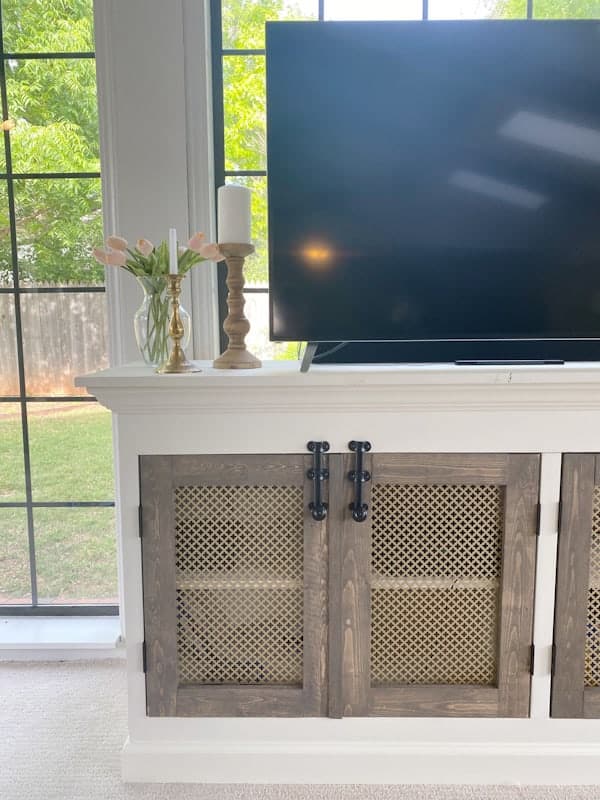 I painted the base of the media cabinet with Valspar's Chalky Finish paint in Her Dainties. Eric stained the doors with Varathane's stain in Briarsmoke.
We finished the TV console off by adding these decorative surface bolts to each door.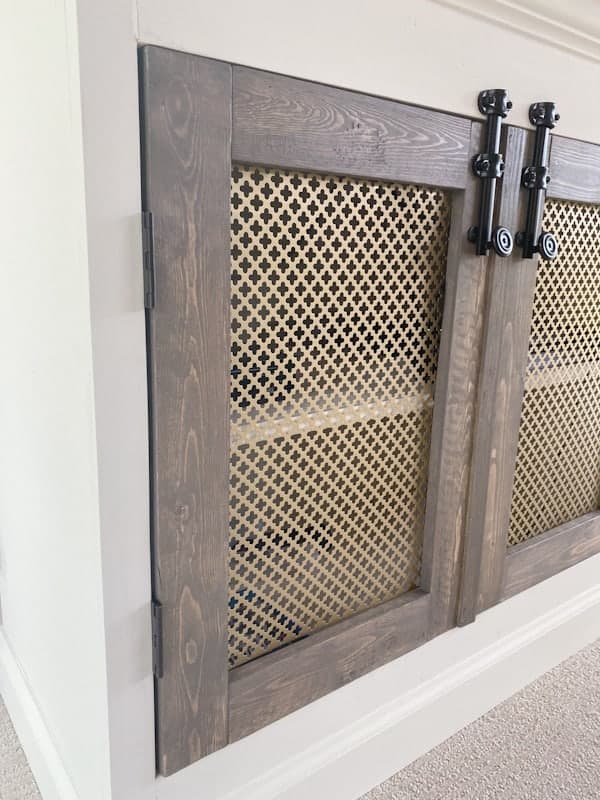 How gorgeous is this piece?! I think I just sat and stared at it for the whole day after we brought it inside!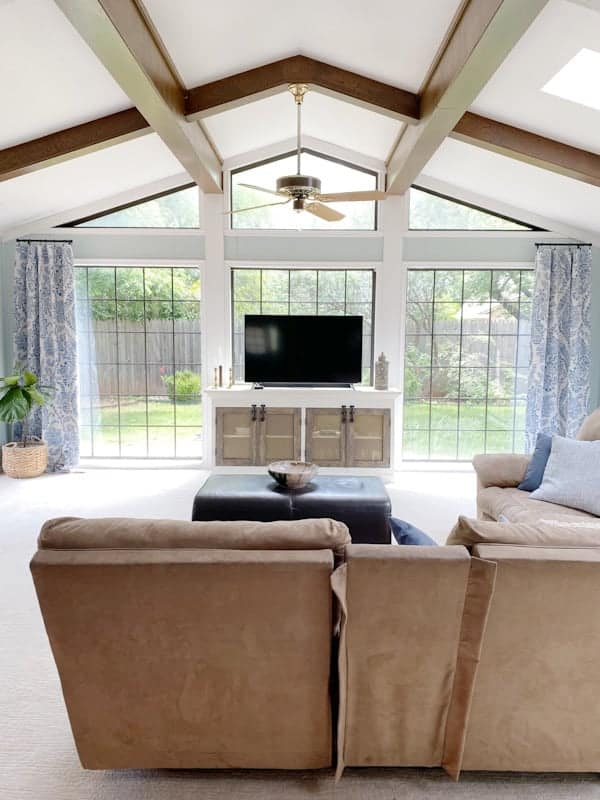 It's proportional to the space now and hides all of our stuff! With the larger TV console, Eric is petitioning for a bigger TV! Maybe someday… 😉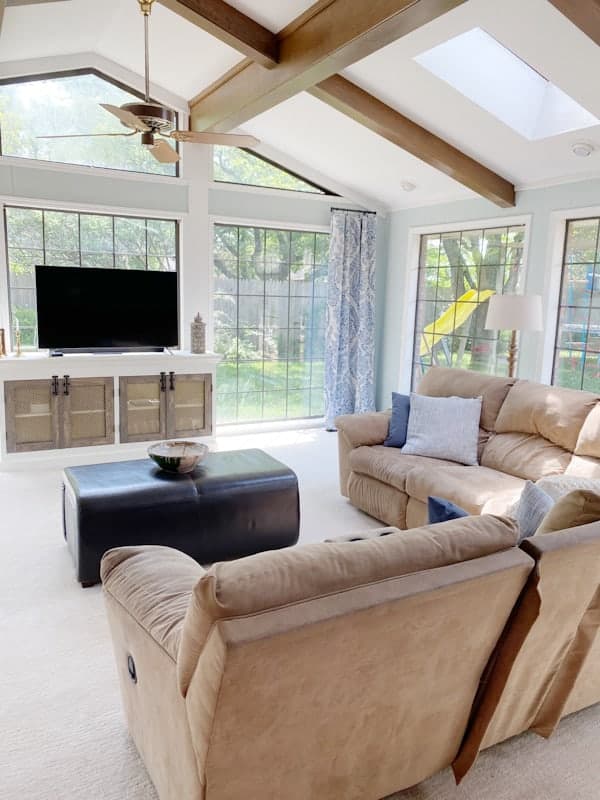 We are so excited about the progress made so far in this room! We just ordered new furniture and a rug and can't wait to continue to share the updates with you over the next several weeks!
Thanks so much for following along! Be sure and hit the subscribe button for the weekly updates (you get a really cool freebie DIY book when you do)!
And check out One Room Challenge's blog for more inspiring makeovers!
Pin for Later