Good morning friends! It's almost the weekend and I am ready! But today I have a fun treat for you! Have you ever done one of those Christmas home tours where people open their homes and you get to go in and see how they decorated? Kind of like Parade of Homes when they're selling a house or letting you get a feel for floor plans and you can go inside to check it out? Well, today I'm participating in a virtual Christmas lights home tour, which is so fun because you can join from the comfort of your couch!
I am so excited to join my friend Brittany from Our Home Made Easy who is hosting today's Christmas light home tour featuring 15 different bloggers! You can check out my home and then click any link below to visit another site! So grab a cup of coffee and settle in!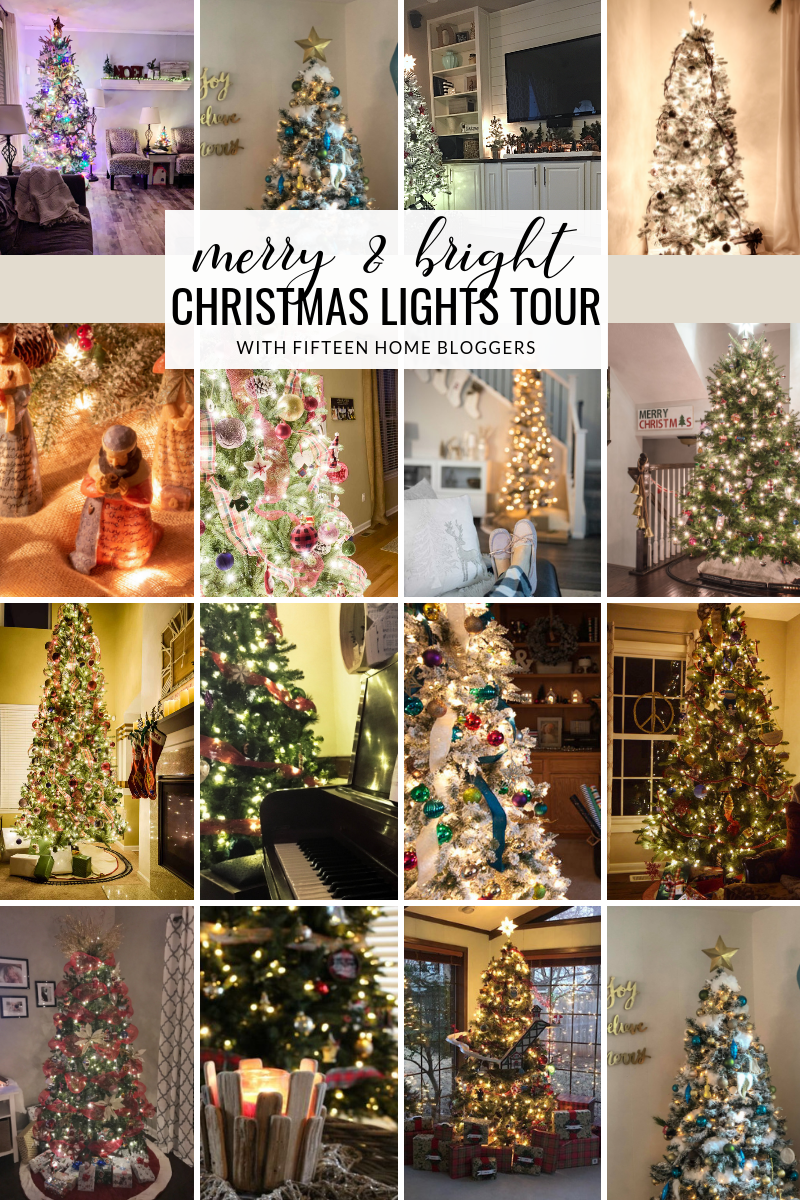 First Christmas in Our Home
This is our first Christmas in this home and it's been so fun decorating! We had to purchase a few items to make all of our current decorations work in the new space, but for the most part, it was just figuring out where to put it.
Christmas Tour – Entryway
The first stop on the tour is our entryway. My husband wrapped the banister in garland and lights, then we added a welcome rug and a burlap wreath to our front door. For our barn doors, we added matching wreaths wrapped in red ribbon. The "Welcome" sign in the corner was a DIY I did back in the fall and I just wrapped a piece of wide ribbon around it to cover the "O" and replaced it with a small wreath to give it some Christmas flair!
Christmas Tour – Fireplace
From the entryway, you enter into the formal dining area, which brings us to the next stop, our fireplace! We gave our fireplace and built-ins a makeover during the summer, which you can read about here. This area was originally a sitting room but it made more sense for us to use it as a dining space and we love having a fireplace in the dining room! We decorated our mantle with garland and a strand of lights and added the stockings (green for boys, red for girls!) and tall, skinny candles. Then we hung the sign above everything. I found the sign at Kirkland's last year and couldn't pass it up! I love the nativity scene at the bottom and having a big reminder that this is the whole reason we celebrate!
Christmas Tour – Built-In Hutch
Opposite of the fireplace is our built-in hutch which also received a makeover after we purchased the home. I love how it turned out for Christmas! I purchased some vintage brass candle holders, a few of those fun galvanized metal houses and the "Joy" sign to tie everything together! We added some greenery to the top to finish it off!
Christmas Tour – Living Room
Moving on to the living room for our final stop on the tour, I saved the best for last, our Christmas tree! We don't have a "pretty" tree per se, but I love it because it holds so many special memories! The tree itself has a funny story because when we were moving from one state to another, we accidentally left it behind in storage at our old house. Since it had already sold, a friend of ours got in touch with the new owner and they let him pick it up so he could bring it to us! We had just purchased it the previous Christmas and it was a nice tree so I really wanted it back! Our sweet friend made the seven-hour trek to our new home for Thanksgiving and brought the tree along with him!
Every year I decorate the tree with red beads and plaid ribbon. Then we add all of our special ornaments we've collected through the years. My husband has all of his Hallmark sports player ornaments that his grandparents gave him. I have all of the ornaments that my grandparents bought me each year I was growing up. They still get me and my husband one each Christmas, along with our kiddos and they get added each year.
And of course, it holds all of our kiddos' ornaments that they've made or received and they love pulling them out and reminiscing! I always look forward to seeing their homemade, baby's first Christmas, and picture frame ornaments when the season rolls around again!
This year was really neat because my hubby found this vintage Santa Ski Slope in his parent's outbuilding. They had it on their tree for several years when he was growing up. He was so excited to put it on our tree and for our kids to experience! Santa and the other skiers ride up the lift and "ski" down the slope around the tree. Fun!
I really hope you've enjoyed this Christmas lights tour! I've had so much fun being part of this and getting to show off our home! I'm going to light a candle, kick back, and relax with this cozy view while I check out the rest of these beautiful homes!
CHECK OUT ALL THE OTHER MERRY & BRIGHT CHRISTMAS LIGHT HOME TOURS HERE!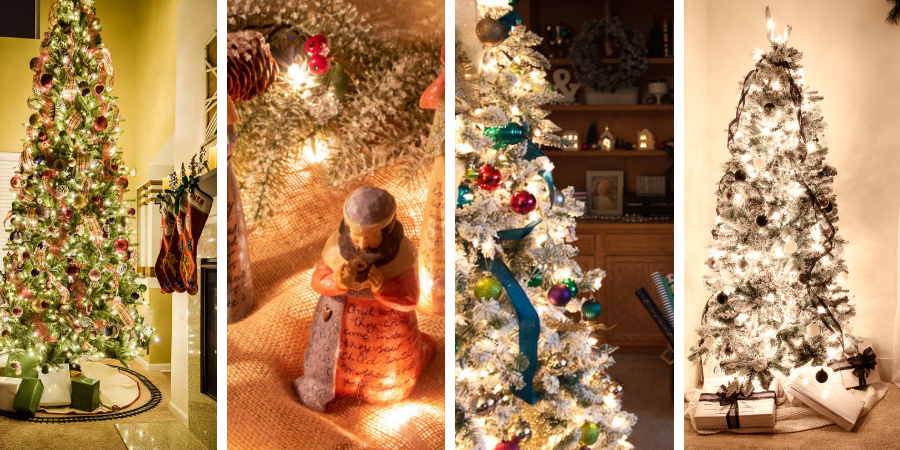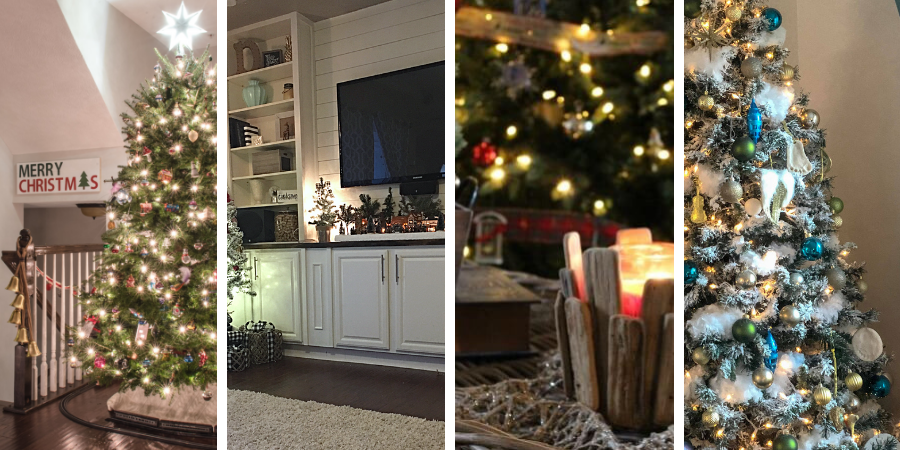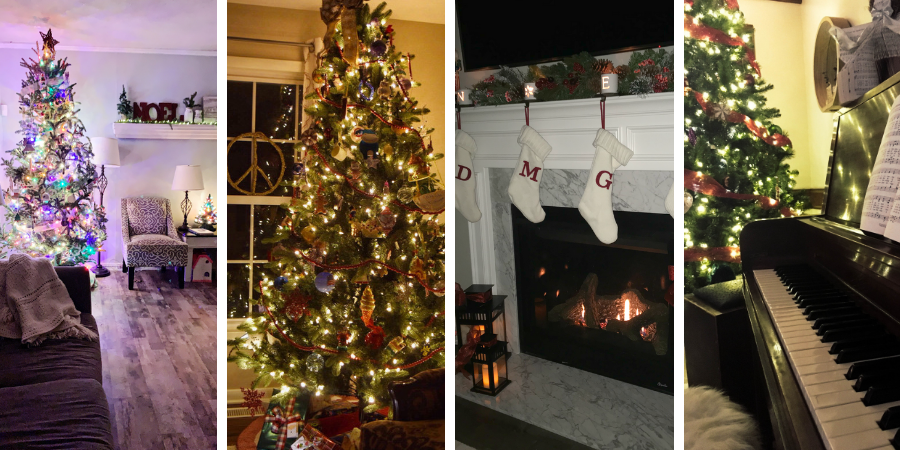 Gather Home and Design